By Antimo Cimino, Italy travel expert at VoomaGo
Lately, the world's most famous travel magazine and newspapers have been featuring Puglia as one of the most beautiful and enchanting Italian destinations.
Tourism boards have increased their marketing efforts attracting famous personality to this undiscovered region. Since Justin Timberlake wedding in Puglia, Woopi Golberg most recent visit, Madonna, Matt Dillon, Tom Hanks and Hugh Jackman visits to mention a few, Puglia has earned the name of "The Tuscany of the South".
It is a bit disappointing that famous people have to be invited and paid to become ambassadors of new travel destinations that were beautiful long before they even set foot there.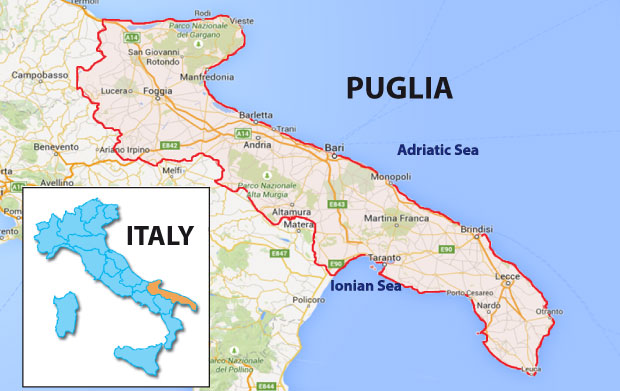 As a born and raised Italian man from Puglia, I am happy to share my insider perspective of my beloved home region with pride, passion, and love. There are a few memories and emotions that transport me back home in an heartbeat: my mother's homemade orecchiette with cime di rape and anchovies; memories of the warm sun as I harvested tomatoes or grapes in my family orchard; picking figs and eating them off the tree till I was stuffed; a glass of Primitivo with its fruity, bold qualities and tannins making love to my taste buds; the glittering, emerald, crystal clear water of the Ionian Sea; and the quite, hot streets of summer afternoons when everyone takes a nap.
While these are the emotions from my childhood growing up in Puglia and from when i take people there on tours, I can assure you these are the authentic, simple and yet most beautiful memories you will be talking about when you visit. There are countless little towns and cities, unique and charming, each one with their character but what will elevate your experience of Puglia, making it truly unforgettable, will undoubtedly be its people and the food.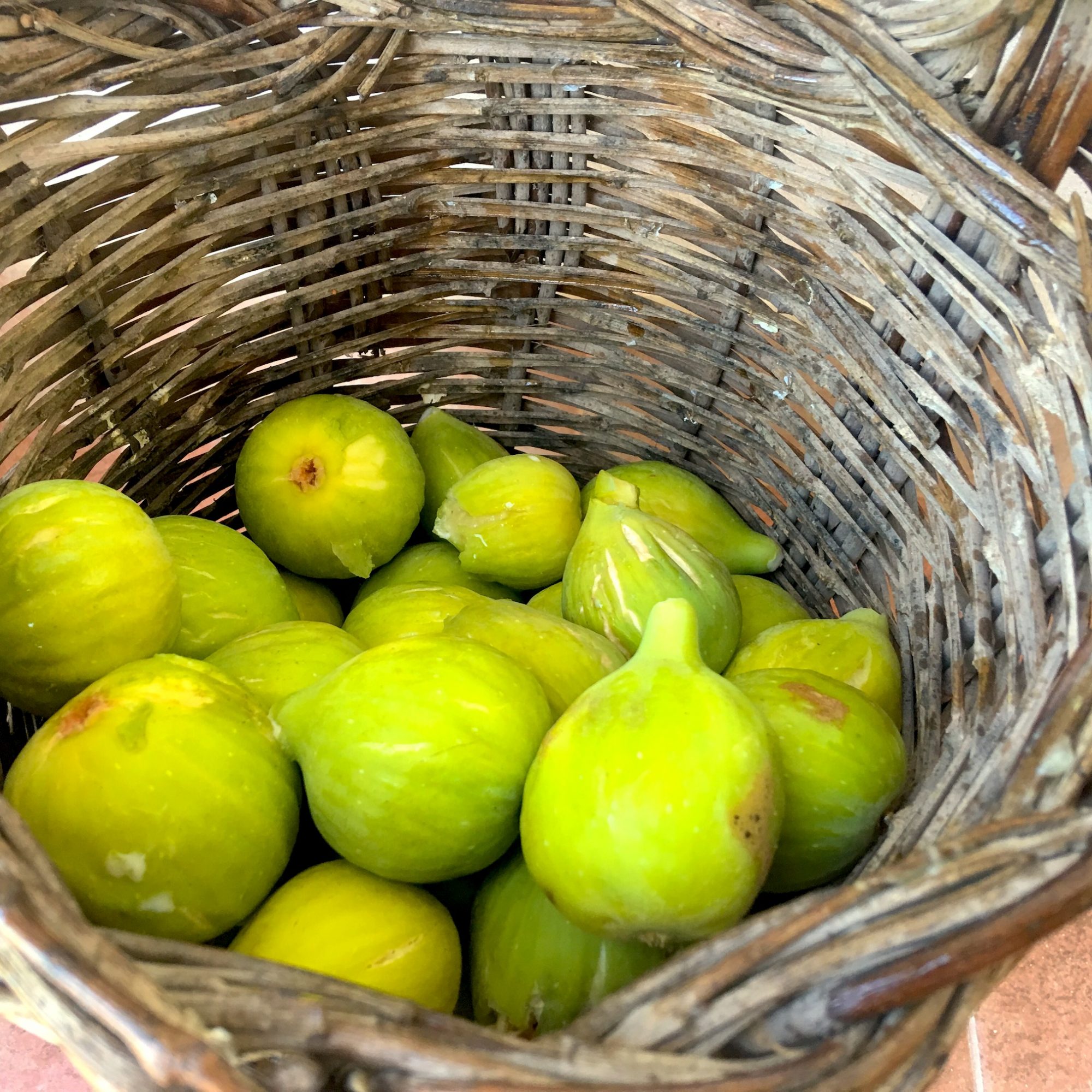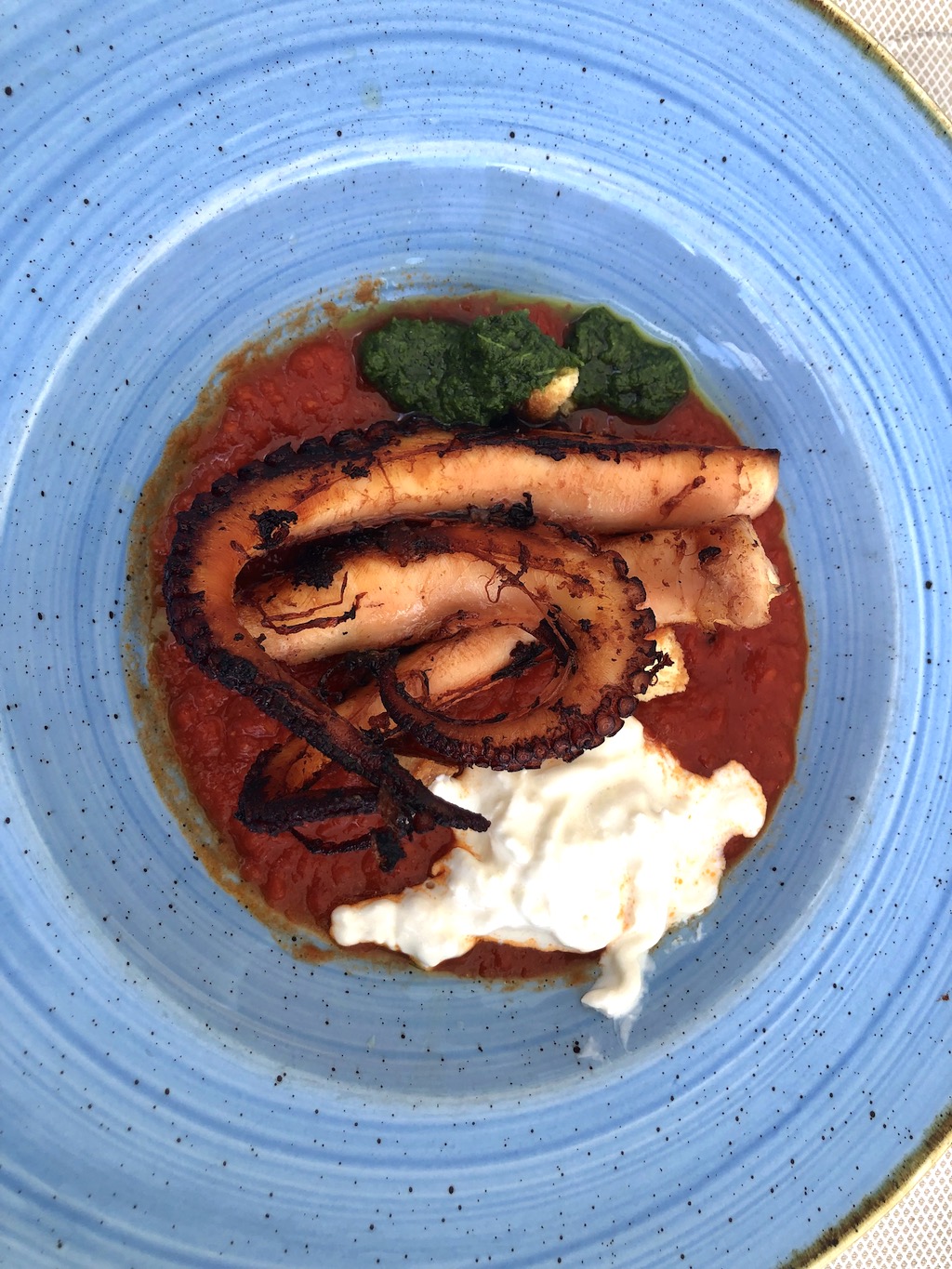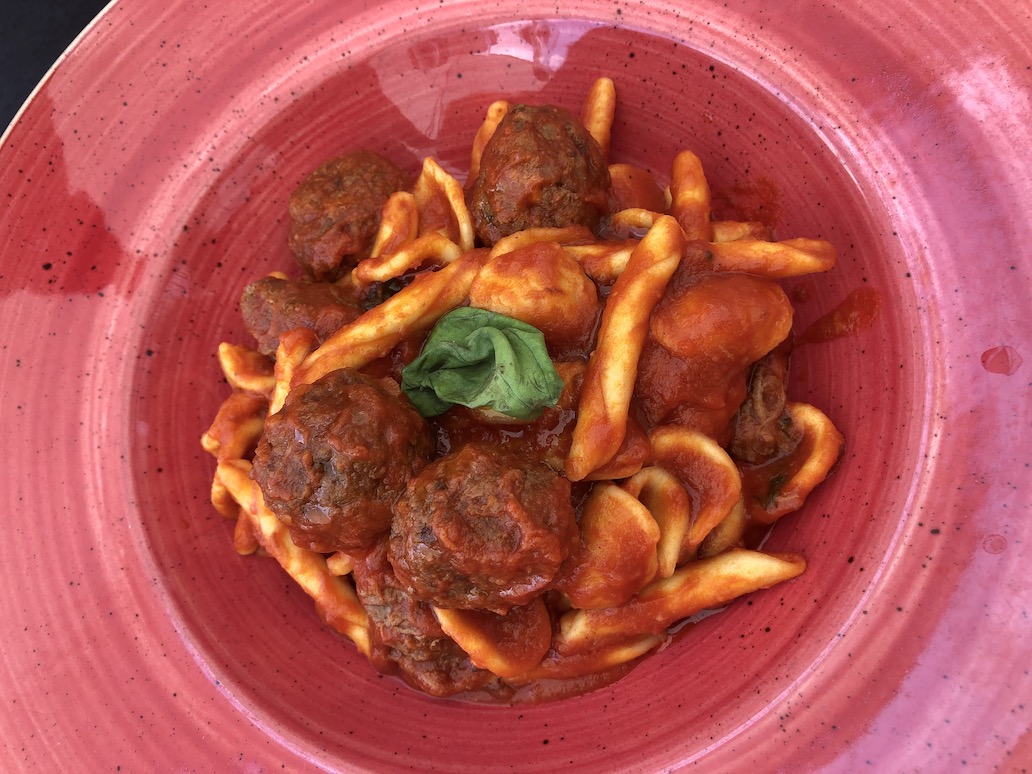 Puglia is the Southernmost region to the East of the Italian boot. Bari is the capital and the biggest airport right on the Adriatic Sea. Famous for the Nonnas (Grandmas) making pasta in the streets of the old town and for its religious festivity of San Nicola, the patron saint (May 9th). As you travel south, the next city is Brindisi with another airport gateway to the Salento region to the south. Lecce, a Baroque masterpiece of a city with palaces and cathedrals built from limestone, it is often referred to as "the Florence of the South". But aside from major cities, Puglia has hundreds of little towns with their unique charm, culture, traditions and culinary delights. Polignano a Mare, for instance is an ancient town perched on a rock over the Adriatic, with homes and balconies build on top of a system of caves. One cave in particular, 60 years ago was made into one of the world's most renowned restaurants, Grotta Palazzese. Ostuni, famous for its white lime-washed houses and little streets. Alberobello, where the highest concentration of Trulli Houses can be found, a fairytale like town from the XIII century with cone shaped homes built with the local "Petra Chiatta" (Flat Stone).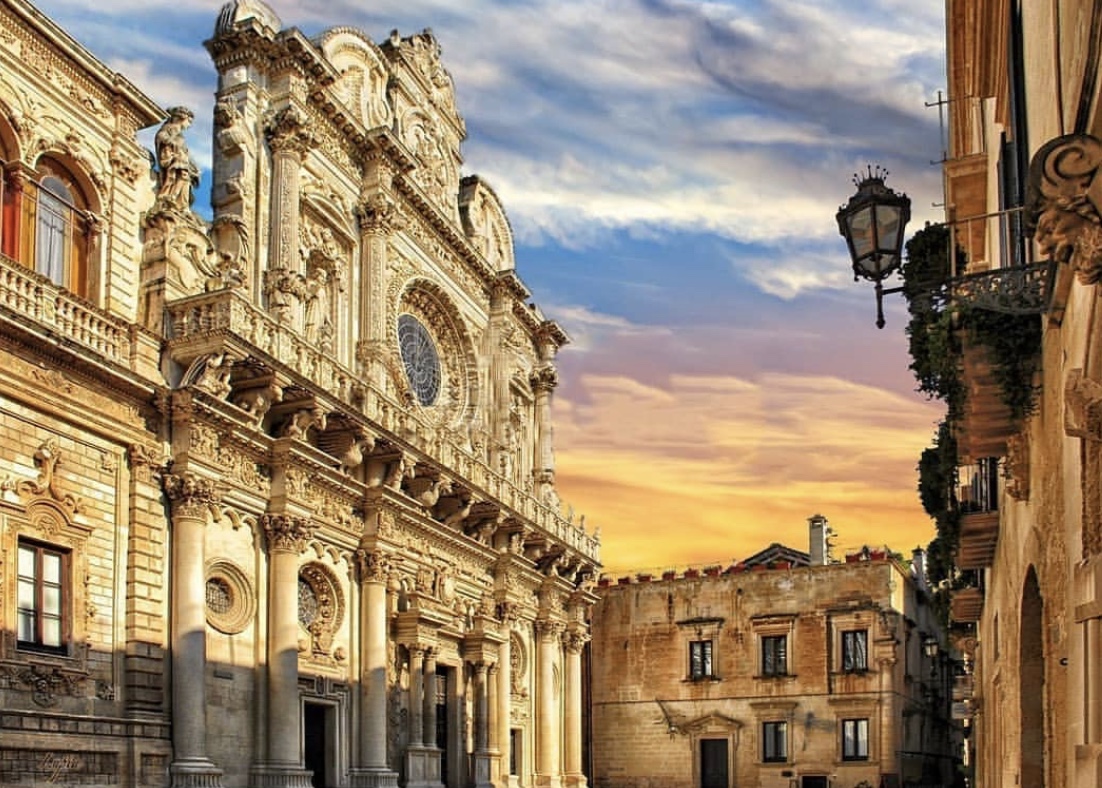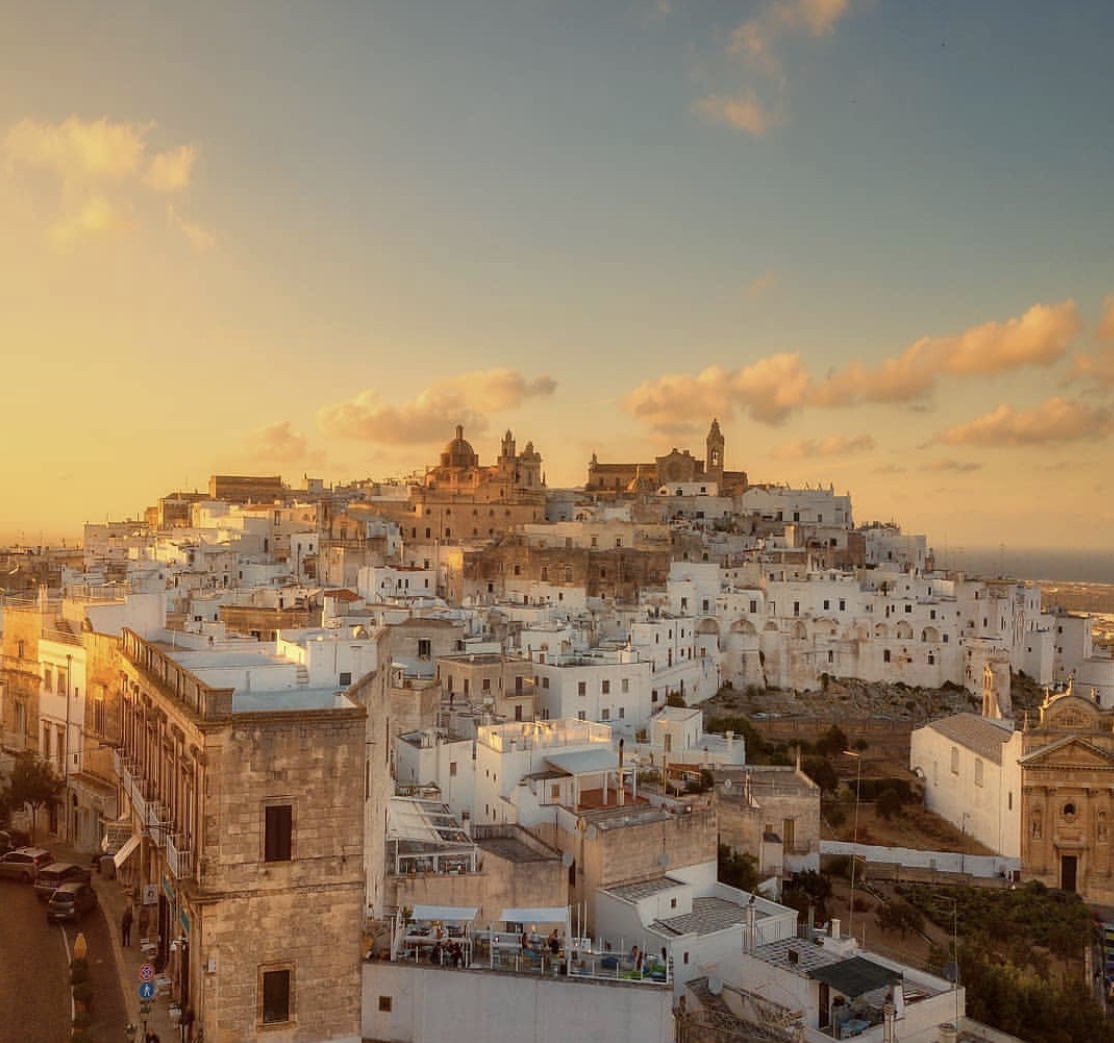 The weather in Puglia is ideal for raising a generous and diverse variety of products year round, so for a chef like me, when I am home, I am in heaven. The rich soil, the proximity to the sea, and three hundred days of sun make out terroir ideal for produces packed with flavor. In Puglia you cannot have a bad meal no matter how hard you tried to find one!
Farmers markets are an everyday occurrence, and once a week on rotation, every town gets to have a very large market (bazaar style), where local merchants, artisans, butchers, fishermen, and farmers gather to sell their fresh produce.
No matter where you live in Puglia, thanks to over 500 miles of coast line, you can be at the beach within 30-45 minutes from almost anywhere. The coast line is also very varied. Sandy white beaches to the south on the Ionian sea, with stretches of low rocky beaches and caves, to high cliffs and caves from the center to the north along the Adriatic coast. There is a beach for everyone's type. If you love the beach, only one word of caution, avoid the times between end of June and end of August. In southern Italy, the concept of space, social interaction, and relaxation is quite the opposite of what we are used to in America. Southern Italians loves spending 4-6 hours under the sun, playing cards, talking, bringing lunch, and snoozing. The beach is a rendez-vous for family and friends and by 11 most days the sand disappears under a thick carpet of beach towels and umbrellas, making the scene very intimidating for most Americans. To enjoy some peace and quiet and the beautiful buoyant sea water, you may want to visit mid September to mid October. The weather is perfect this time of the year with temperatures between 75 and 85 degrees. During this time, the locals would not even think of going to the beach because to them, it is too cold, plus the harvest of the grapes maybe in full motion.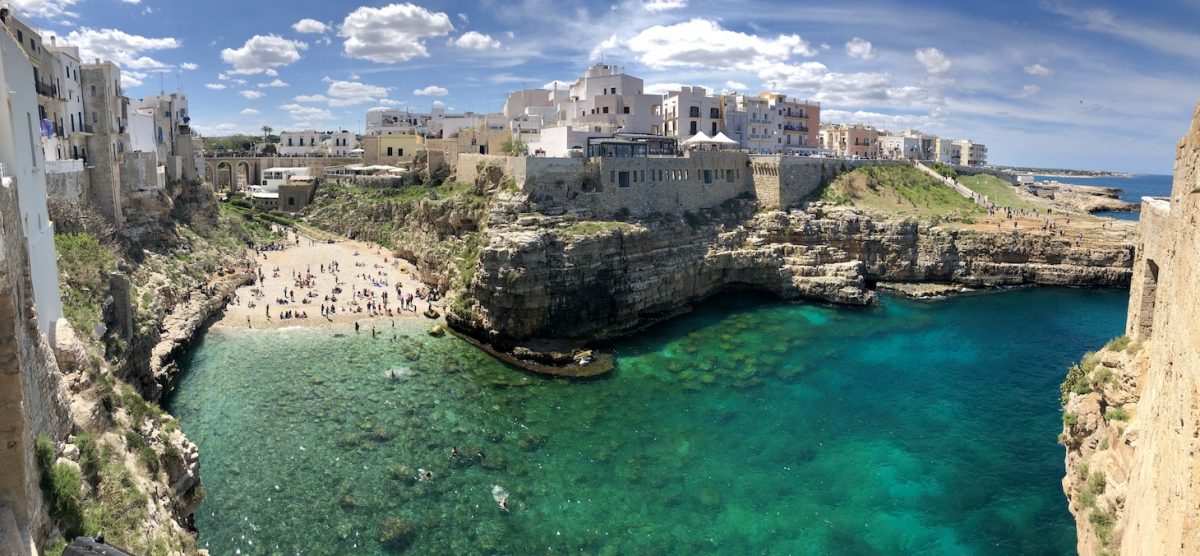 I have just scratched the surface telling you about my home region of Puglia, but I think you get the geste of what to expect. People's hospitality and cuisine here are second to none, so rest assured you will not go hungry here, not even if you cannot eat gluten. If you plan on visiting make sure you are at least spending 10 days, don't assume that public transportation will take you everywhere, plan on renting a car. If you are adventurous, have a good dose of patience and embrace ambiguity, if not, the best thing you can do is to hire a local to show you around.
Reach out to me anytime for tips, planning your trip, or joining one of my tours.
antimo@voomago.com
www.voomago.com
Read original article on Antimo's blog at VoomaGo