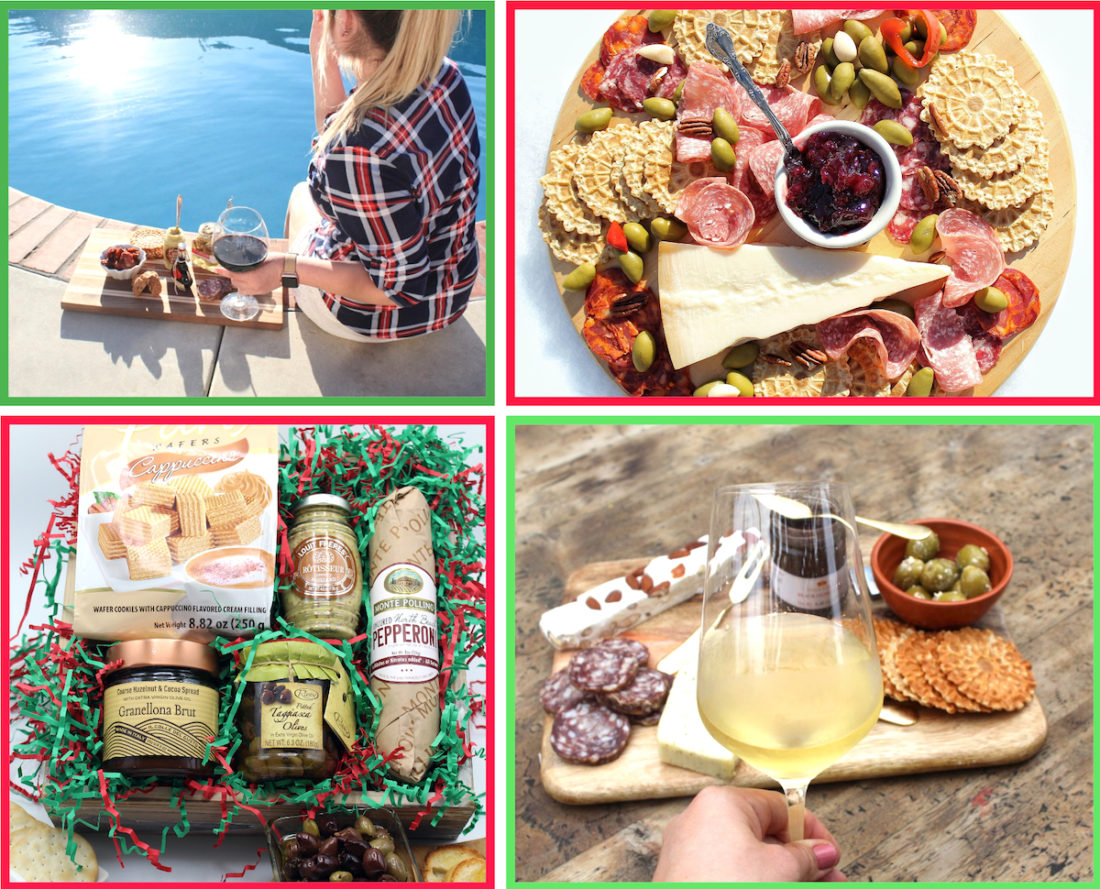 Delicious & Beautiful Charcuterie and Antipasto Platters are one click away …
(Enter HOLIDAY at checkout for 15% off!)
Delicious Selections of Authentic Italian Goodies!    
Get 5-6 full-size scrumptious items from Italy in single packages or every month. The items complement one another, and there's at least 1 sweet in every box.
1 FREE Buongiorno mug with every single package order!!
1 FREE Buongiorno mug with subscriptions of 6 and 12 mos!
A new premium selection of Italian delicacies delivered to your doorstep every month.
These boxes of Italian delicacies have been a great way for us to follow up a trip to Florence — fine black olives, artichoke tomato sauce, extra virgin olive oil, etc. What treats!
Charles
Italy brought to your home!!! It brings us both back to Italy.
June and Malcolm
A wonderful treat and always a joy to receive this monthly package. A nice mix of sweet and savory. It's fun to find new and unexpected items to enjoy.
Greg
My Italian Father LOVED it!! I purchased a 3 mos subscription for my Sicilian father this Christmas. He has no idea what to expect but both my mom and dad loved getting a monthly surprise in the mail. I was so happy to see how excited they were. It's really nice to get my dad something he truly enjoys and doesn't have to cook. It's a no fuss, easy box.
N. Marshall
No complaints - great product and helpful, prompt, and friendly customer service.
Sean K.
I'm super busy, and shopping and cooking can take a lot of time. Taste Little Italy helps me eat healthy and indulge myself with authentic Italian food. I can host guests on the fly. They also send me recipes I can make with each box.
Heba
I am so excited to open this box every single month. Beautifully wrapped and packaged, even glass items arriving safely. This box always feels like a decadent treat and totally worth the price.
Alise S.
Gusto was better than being there! Great items I never had before even in Italy!
Joseph D.
I shared my box of Taste Little Italy treats with friends at work and they absolutely LOVED it! Easy to put together the tasty treats, and the quality and taste of the products are unmatched.
Diana
I sent this to my son and he did receive the December package upon his return to CA. He has also received the January package as well. So far he says the products are great and is looking forward to more. He loves his Italian heritage and reminds him of his recent trip to Florence. Much appreciated gift - I will consider continuing this treat!
Cristina M.
Given as a gift. Got excellent feedback from the recipient ... Customer service was amazing.
Lara M.
Want a mini mental Italian vacation picnic from the comfort of home? Look no further than Taste Little Italy. It brings all the comfort foods and tastes that made your Italian vacation so special and packages it conveniently into a curated group of items. Each monthly shipment includes items that don't need much prep to create a hearty appetizer platter.
Asato M.
My husband and I are foodies! I was looking for a subscription box we both would enjoy opening and experiencing together and I am SO GLAD I found this one. What a wonderful surprise and late night snack that comes to our door once a month.
Courtney H.
I received my first box as a gift. It was so incredible, I just had to get the monthly deliveries. The box presentation, quality of the food items, and recipes totally impressed this Italian girl! These boxes will now be my go to gifts for birthdays, weddings, anniversaries, etc. Thank you Taste Little Italy!
Frances K.
As an Italian American I'm blown away by everything in this box! I love it so much I had to go ahead and get both subscriptions. Grazie mille!
Tara B.
I sent this as a gift and they loved it!
Nancy M.
I just received my first (of many to come, I hope) box and my daughter and I were overjoyed with the presentation and excellent and careful selection of foods included.
Amelia B.
It arrives in a sturdy box in the colors of the Italian flag - as though it was shipped internationally. Products always taste fresh and wholesome.
Rochelle L.
Fab, Fab Fab! I had such fun opening this box. It can with a bitter soda which was much loved by my hubby & I. I am looking forward to the next box and sorry I signed up for every 2 months. I want one every month!!!
Nancy C Wilson
So much fun to open these boxes!
Nancy
Get discounts, recipes, and giveaways!